The COVID-19 pandemic has had a lingering impact on the way we communicate. Video conferencing has become a staple in our daily social distance communication lives as we have started relying on it to stay connected not only with our co-workers but also with our friends and family members. In fact, many of us still use video chat services, be it to talk to our loved ones or throw virtual parties with people joining from all over the world.
There has been an influx of video chat services in the market, and even the existing services have improved a lot over time. This means that you no longer have to rely solely on popular services like Zoom. If you're wondering which video chat service is right for you, here are some solid options to consider in 2023.
Best Overall: Zoom
Zoom is one of the largest video conferencing applications available today. Its name is pretty much synonymous with video meetings now, and it's our pick for the best all-around video chat service, too. Zoom was primarily marketed for corporate use, but now has several versions for different use cases. Zoom One remains the traditional video conferencing service for all things including meetings, team chat, and more, but you can also check out other tiers like Zoom phone or Zoom Rooms.
The basic version of Zoom remains free to use, and allows up to 100 users to meet. It also provides some other basics including the ability to share screen and even record your meetings. You can always upgrade your tier to accommodate more users, so it's quite versatile with its plans. Zoom is available to download and use across all major platforms, making it the go-to option for many workplaces and companies to host Zoom meetings. Regular users can also use Zoom for free on their smartphones and laptops, so overall it's a good option.
Best paid service: Microsoft Teams
The Microsoft Teams free tier is good enough for most users as it allows you to have up to 100 people in your group connect that too for an hour. But if you want to host more participants or access some collaborative apps and tools, you will have to choose one of the paid plans. You're primarily paying for Microsoft 365, which means you also get access to a bunch of other Microsoft services like Word, OneDrive, Outlook, and more.
All of the paid Microsoft 365 plans are affordable and come with plenty of extras too, so you get a lot of bang for your buck. Even the Microsoft 365 Personal plan makes a lot of sense since you get access to all Microsoft services, not just Teams. The list of available features varies depending on which level you choose, so be sure to look at all of your options before making a purchase. Microsoft Teams also works across different platforms, so you are not limited to using it on Windows devices only.
Best service with Google integration: Google Meet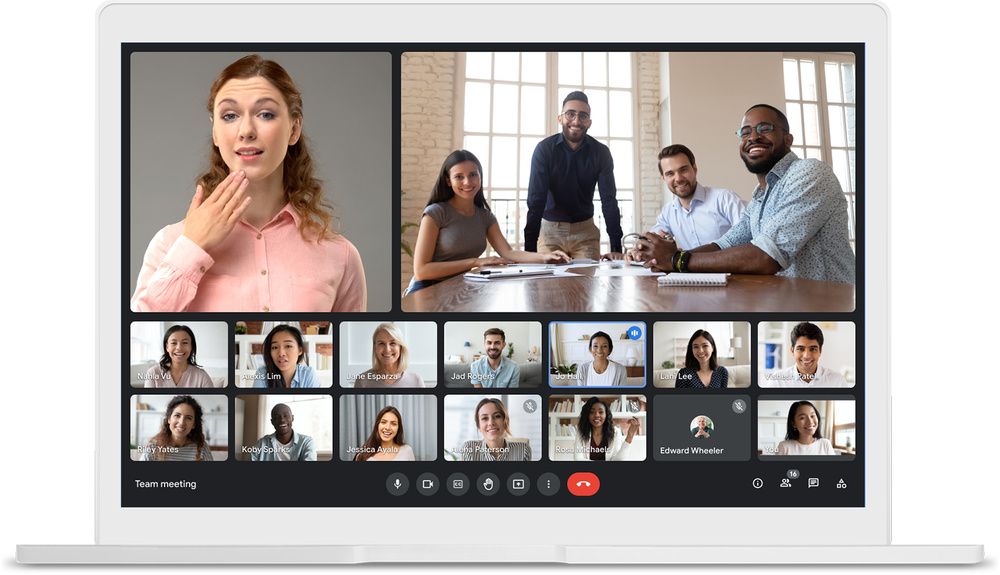 Google Meet is a free and easy-to-use video chat service that allows you to set up and attend video calls to keep in touch with your colleagues, friends, and family. You need a Google account to create meetings, but you can also join a meeting without it. It's very easy to create a new meeting and share the invitation with others to join, and you can get the meeting up and running in just a few minutes.
One of Google Meet's biggest selling points is its integration with other Google apps like Gmail, Sheet, Docs, and more. You can have up to 100 participants in your meeting, and you can even use features like Whiteboard, Google Meet Live Sharing, and more to have an interactive session. Anyone with a Google account can create a meeting to host up to 100 participants, but you'll need to pay for additional features like international dialing numbers, meeting recording, live streaming, and more.
Best for Apple Users: Apple FaceTime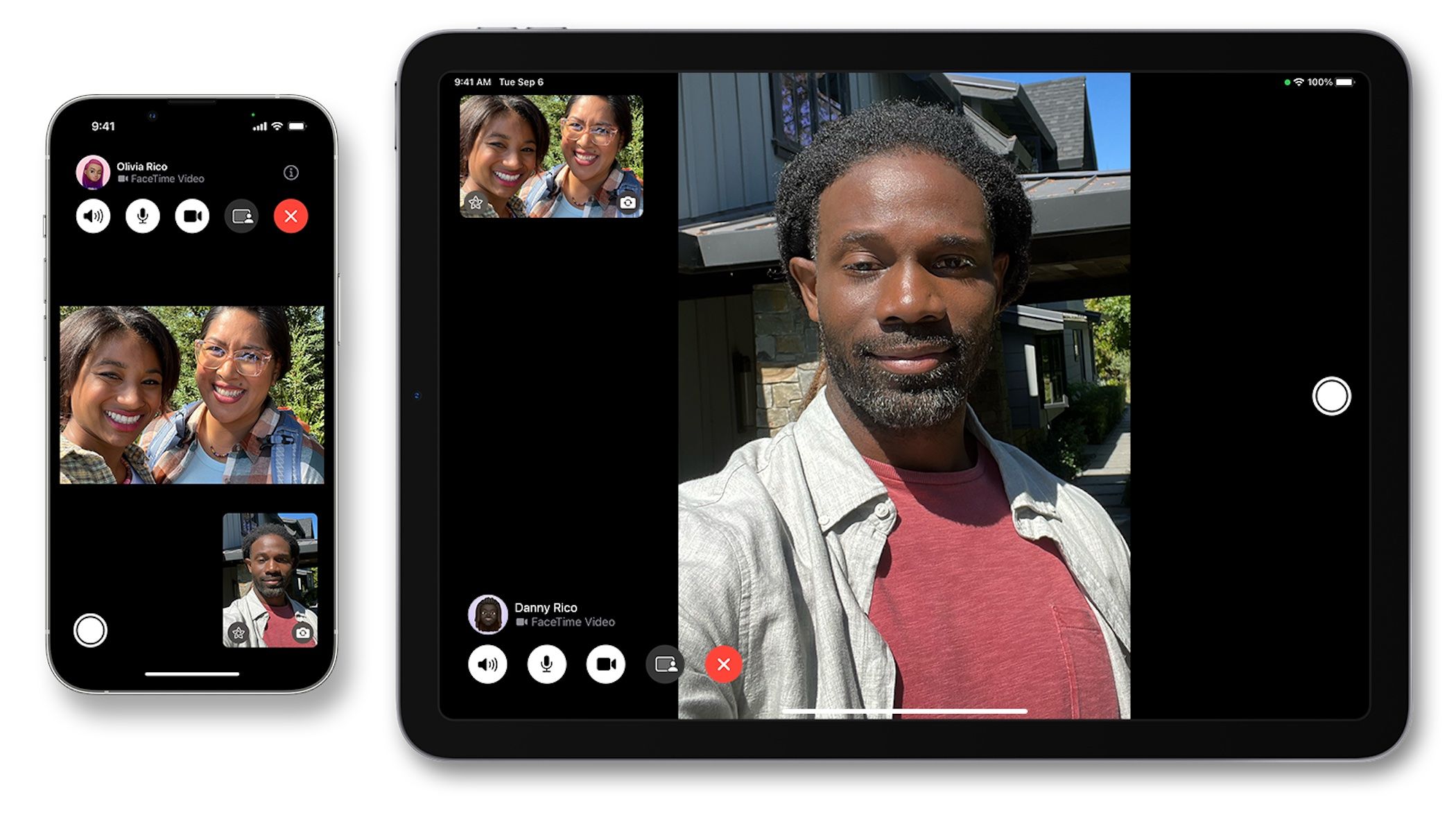 Apple device users probably already use the company's built-in video chat app, so it's our pick for the best video chat service for Apple users. FaceTime has been around for quite some time, but it has recently been updated with a bunch of new features. It has evolved into a full-fledged group video chatting service, complete with an updated interface and many new features including SharePlay.
Group video calling was added to FaceTime back in 2018, and it now allows you to add up to 32 participants in a group video call. Only four of these participants can be in the frame at any one time, but more of them are unlikely to be speaking at the same time either. One of the best things about FaceTime is that it accommodates users outside of Apple's ecosystem as well, which means it's perfect for keeping in touch with everyone in your circle. FaceTime works on iOS, iPadOS, and macOS, and it comes pre-installed on all of these devices.
Keep in mind that you can only invite Android or Windows users to join your call, they can't initiate one. You can check our How to Share a FaceTime Call with Android or Windows user tutorial to learn more about this particular feature.
Best for gaming and party watching: Discord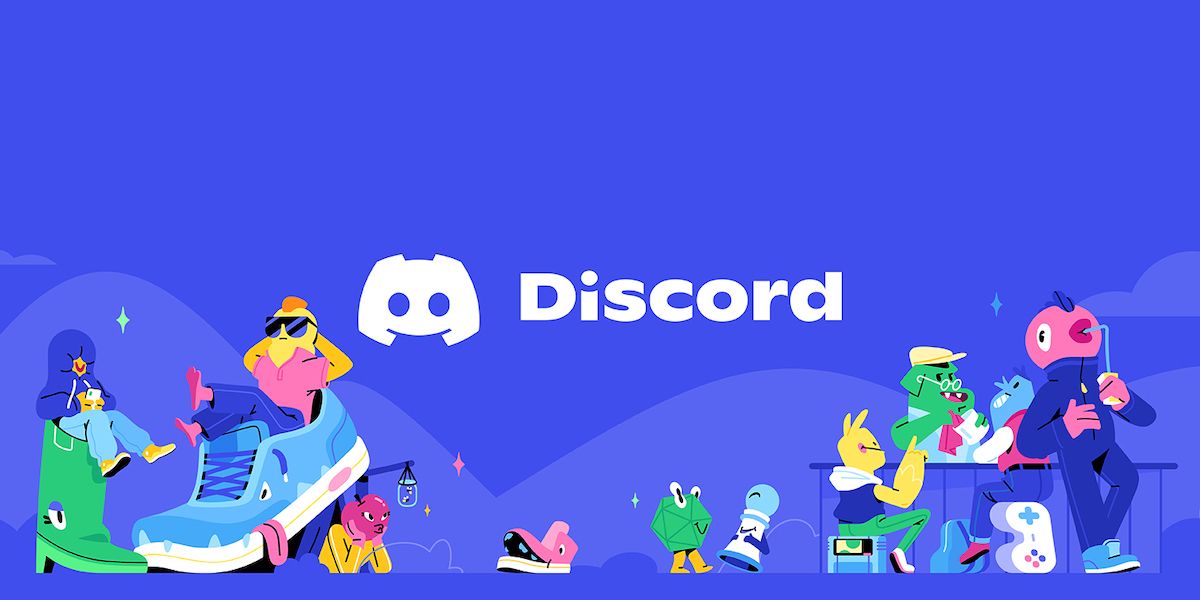 Discord originally started as a communication tool for gamers, but now it caters to more users than those who play the game. Anyone can start a server in Discord and chat with like-minded individuals on any topic. Discord is still largely centered around group voice and text chats, but you can also use it to have a one-on-one video chat with your friend or a group chat with up to 25 users on the server.
One of the best things about Discord is that you can also use it as a communication hub to interact with a relatively large community. In addition to that, you can also use it to stream games or other media with server members. You can even use it to host game and movie parties with friends, so it's perfect for a group of people who like to socialize and hang out online. Discord is free to use, but it has an optional paid tier called Discord Nitro that adds some extra perks like HD quality streaming, larger file sharing, and more.
Best for calling friends on mobile: WhatsApp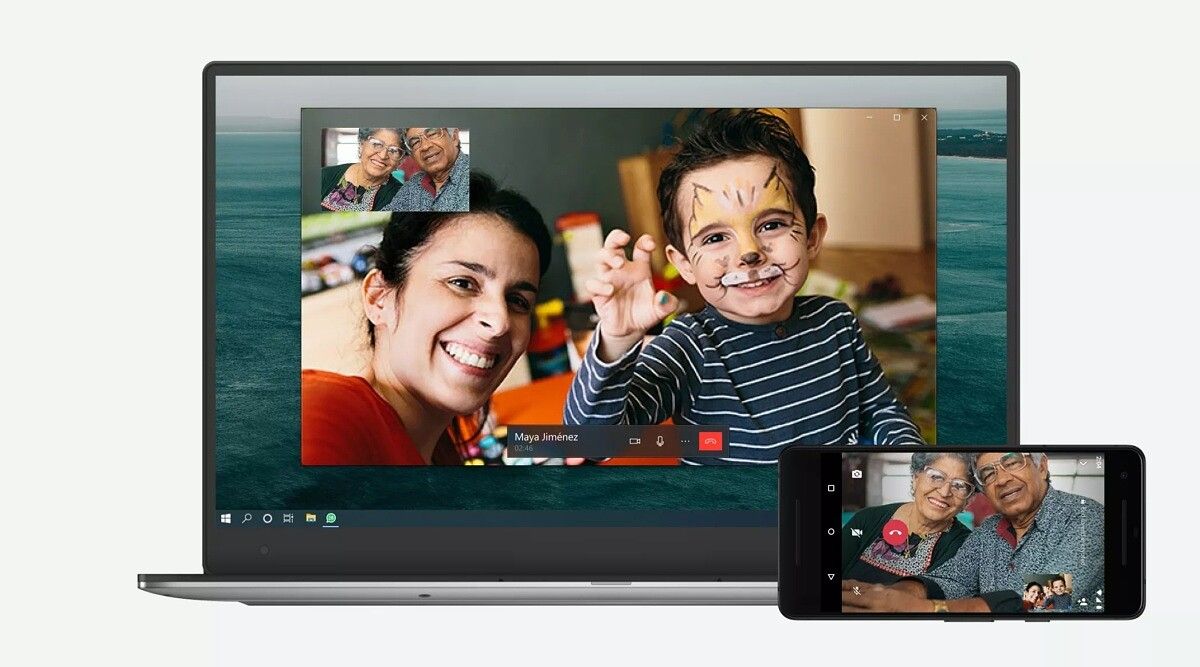 WhatsApp is one of the largest messaging services out there with billions of active users all over the world. It also works flawlessly across different platforms including Android and iOS, so it's our pick for the best mobile video chatting service. WhatsApp video calling works from scratch, which means you don't have to download an extra app or pay for a premium plan.
WhatsApp is a reliable messaging and voice calling app too, so you can use it as your primary messaging service to keep in touch with your friends and family. Yes, it's powered by Facebook, but it offers end-to-end encryption, so you don't have to worry about anyone snooping into your messages and call logs.
Easy to use: Facebook Messenger rooms
If you're among the three billion monthly active Facebook users, chances are you're already using Messenger Rooms. Facebook was one of the first platforms to promote video chatting services to offer a powerful option to users all over the world. Setting up Facebook Messenger Rooms is very simple, and it works on both mobile and desktop devices. It is also completely free to use, and there are no paid tiers.
You can create a video chat room via Facebook or Messenger app with just a tap of a few buttons. You can also invite up to 50 people to join a video call, which even those without a Facebook account can join. There are no time restrictions on the calls either, so it is ideal for those who like to spend many hours on video calls.
Best Open Source Service: Signal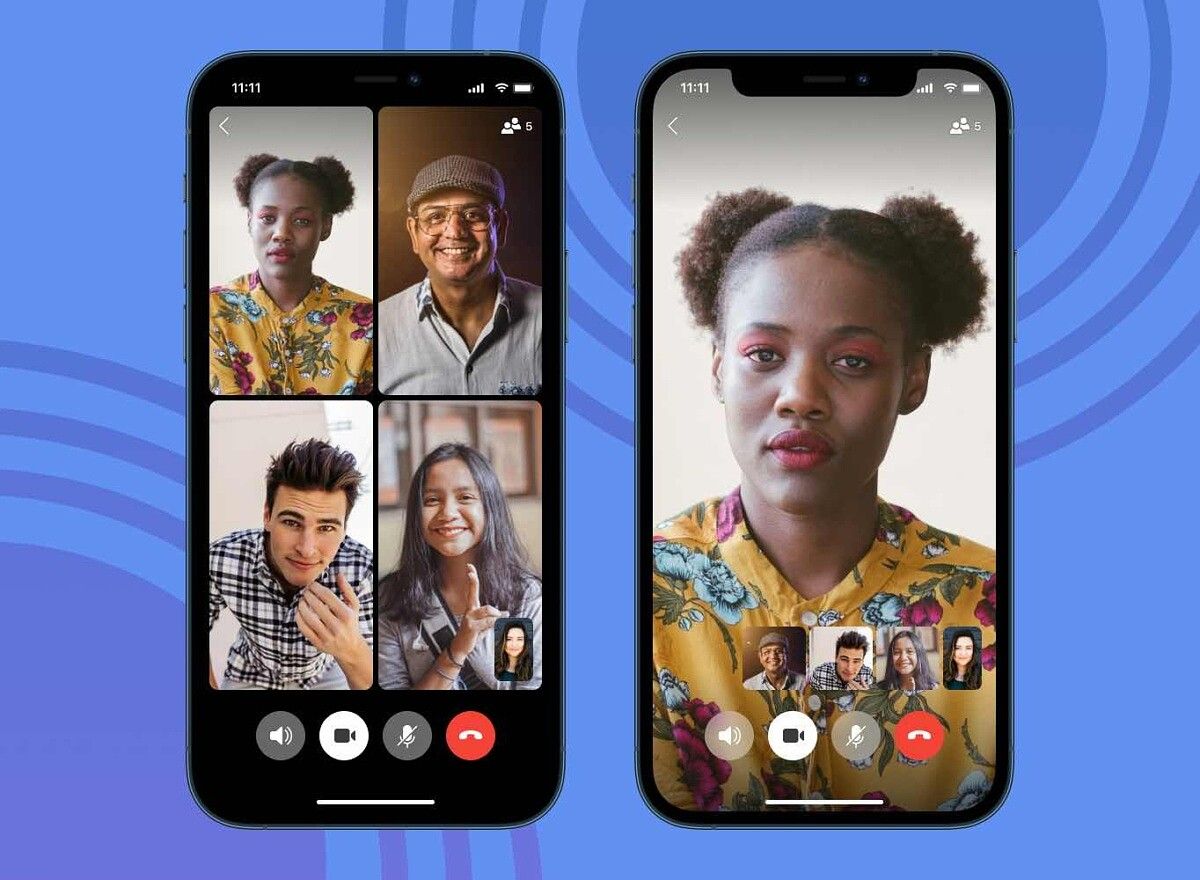 Signal, as you may already know, is known for its end-to-end encrypted messaging service. However, the nonprofit supporting the service also expanded to video calling in 2020. It's a simple service that allows you to connect with your peers over a secure, end-to-end encrypted connection via text or call. End-to-end encryption means that only participants who exchange texts or participate in calls can view the message or video. It's safe from anyone else, including your messaging provider, too.
Signal's video calling feature debuted in 2020 with a cap of five users, but has since increased support for up to 40 participants. There's no time limit for one-on-one or group meetings either, so it's better than a lot of the other options out there. Signal's calling service is also open source, which means you can examine, modify, and improve it to build and deploy an end-to-end encrypted video conferencing service.
And that brings us to the end of this particular group in which we've added a bunch of different video chat services that you can use in 2023. It's hard to choose just one option from a bunch of services in the market, so we've highlighted them based on use cases. Zoom remains one of the best video chat services, as it can be used for both personal and business purposes. Services like Google Meet and Microsoft Teams are also good, but you may want to rely on the service that best suits your preferences. Almost all of the services mentioned in this collection work across different platforms, so you can use them on all your devices, be it your phone, laptop, or your workstation computer.
So which video chat service do you use on a regular basis? Tell us by leaving a line in the comments below.